Ein Fünftel mehr Berlin
Die Wohnraumkrise in Berlin spitzt sich zu.
Gleichzeitig liegt mitten im Stadtgebiet eine gewaltige Fläche von fast 30 Millionen Quadratmetern, die mehr
als 700.000 Menschen, einem Fünftel der Stadtbevölkerung, ein Zuhause bieten könnte: die Berliner
Kleingartenkolonien. Fast täglich werden deshalb neue Forderungen nach einer vollständigen oder teilweisen
Bebauung der Kleingärten laut.
Weiterlesen Tagesspiegel
Factory Berlin - 7.500m2 - Completed 2014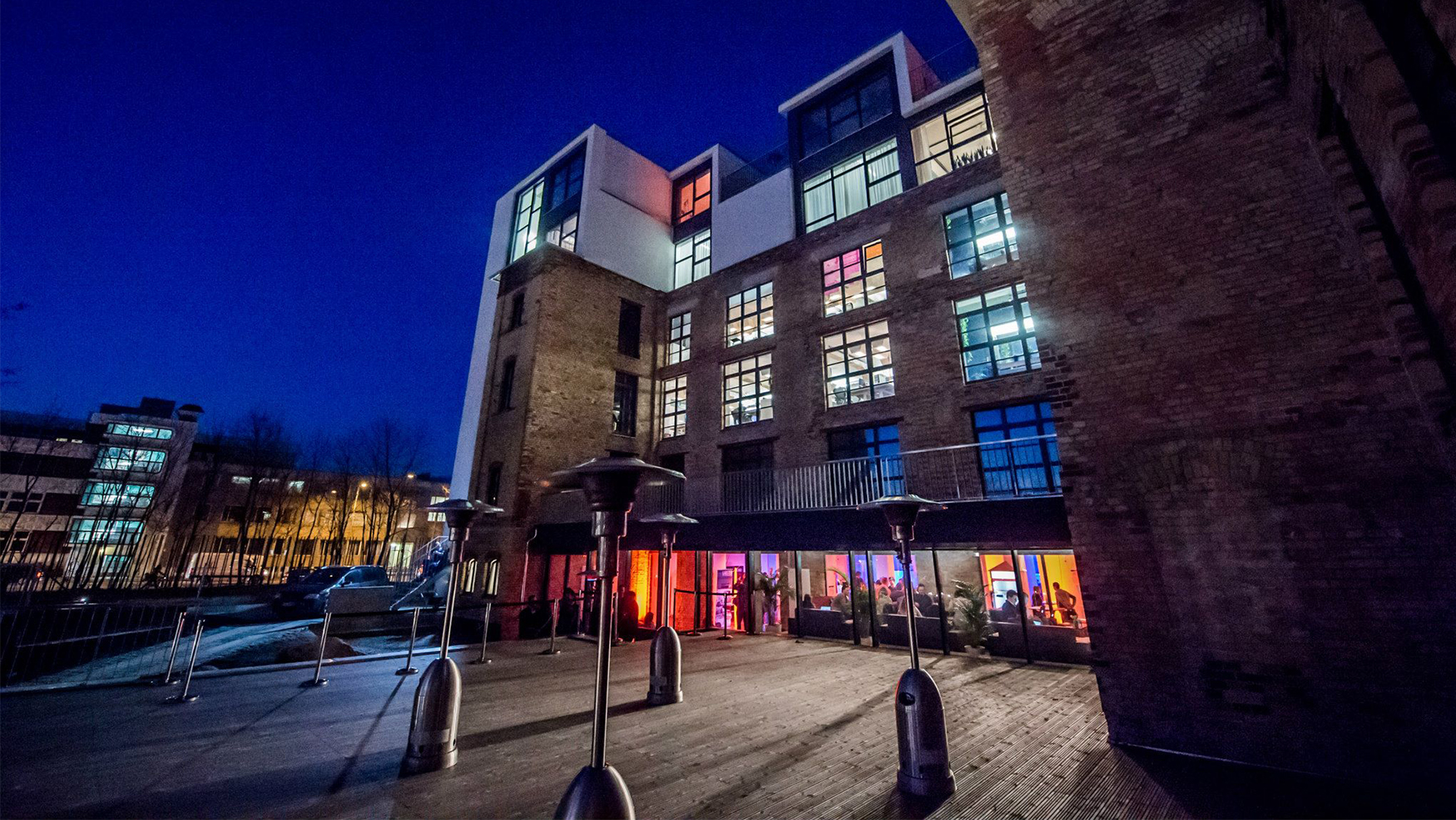 tenants include: S
oundcloud,
T
witter,
P
interest,
Siemens, T-Mobile, Google for Entrepreneurs
project team: Corentin Héraud, Eric Wolfgang Eisenhut, Sarina Giffhorn, Minho Park, Roma Gadomska,
Miles Martino Pacchetti, Cameron Halls, Roberta D'Alessandro
photos: Werner Huthmacher
Refurbishment of the old Oswald Berliner Brewery, built in the a late-19th century and once part of the Berlin Wall. The original pre-World War I brick facade was painstakingly restored while the circulation and spatial logic were manipulated to satisfy the requirements of a 21st century office landscape. The resulting architectural topography forms a village-like arrangement of white volumes, which house together clusters of small start-ups among industry giants, gathered around a central outdoor plaza on the fifth floor. The ground floor hosts co-working spaces and a restaurant, and is open to the campus courtyards, gardens, terraces, and event spaces in the basement.
Read more at ArchDaily
Deutsche Börse Studio - 660m2 - Completed 2019




project team: Lena Brandt, Alessandro Cugola

with: Rimpau & Bauer Architekten and Sedeño Bauplanung

The Deutsche Börse Studio on Unter den Linden provides an elegantly flexible office space which can be quickly reconfigured to host exhibitions or events. A second secluded space references the tradition of the Unter den Linden Salon and provides a refined setting for meetings and discussion.
Factory Lisboa - 12.000m2 - Under construction





with: Löscher & Böckmann Architekten and José Baganha & Arquitectos Associados

project team: Lena Brandt, Alessandro Cugola, Corinna Studier, Gareth Hammond

photos: Victor Castro
Occupying a factory that once produced noodles and cookies for the Portuguese Navy, Factory Lisboa will be part of the Hub Creativo de Beato situated along the banks of the Tejo River. Housing a mixed program of offices, a restaurant, cafe, event space, as well as one of the largest rooftop terraces in Southern Europe. Similar to the Factory Berlin, a diversity of flexible office spaces position industry giants like Daimler among a variety smaller start-ups.
Read more at TechCrunch
Warschauer Str. 70a - Berlin - 8.800m² - Compled 2019




with: Rimpau & Bauer Architekten and Becker + Hofstätter

project team: Alessandro Cugola Lena Brandt
Refurbishment of a former carpentry workshop, left in ruins by multiple bombstrikes during World War II, to be converted into office space. Comprised of three sections, only one of which was left intact, the second was partially destroyed and the third was reduced to rubble. Responding to this, new construction aims to restore the site by replacing what was destroyed and refurbishing what remained. Effort was made where possible to preserve the original architecture with its vaulted brick ceilings, typical of pre war construction in Berlin. New volumes employ the same vaulted structural logic as the existing sections, although with increased spans permitted by contemporary construction materials and techniques. Further emphasizing the distinction between what was lost and what remained, reconstructed volumes are clad with high performance glazed facade which responds to what once stood in its place.