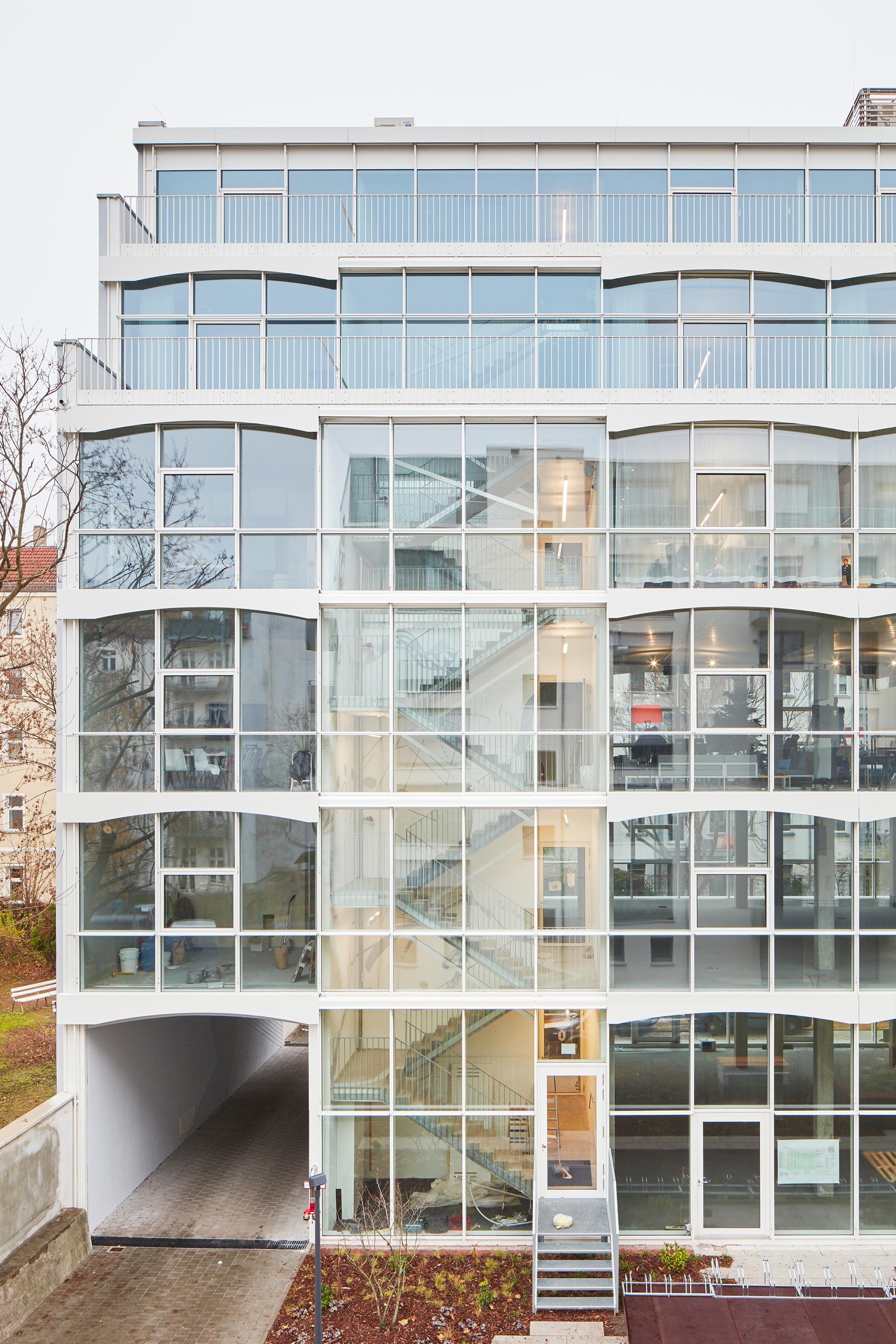 Nike Central Europe Headquarters
Berlin Friedrichshain
6.500m²
completed 2019

In collaboration with Rimpau & Bauer Architekten and Becker + Hofstätter
photos: Anja Dotter, Max Schroeder
project team: Alessandro Cugola Lena Brandt

Refurbishment of a former carpentry workshop, left in ruins by multiple bombstrikes during World War II, to be converted into office space. Comprised of three sections, only one of which was left intact, the second was partially destroyed and the third was reduced to rubble. Responding to this, new construction aims to restore the site by replacing what was destroyed and refurbishing what remained. Effort was made where possible to preserve the original architecture with its vaulted brick ceilings, typical of pre war construction in Berlin. New volumes employ the same vaulted structural logic as the existing sections, although with increased spans permitted by contemporary construction materials and techniques. Further emphasizing the distinction between what was lost and what remained, reconstructed volumes are clad with high performance glazed facade which responds to what once stood in its place.

Read more at Archdaily
Rixdorf Pavillon
Berlin Neukölln
120 m² house / 150m² garden
ongoing

project team: Minho Park, Eric Wolfgang Eisenhut, Martino Pacchetti, Francesca Esposito, Alessandro Cugola
photos: Anja Dotter, Julian Breinersdorfer

An ongoing refurbishment of a disused industrial site in the center of Rixdorf. A small glass pavilion was created within an enclosed plot between neighbouring historic buildings, with the remaining area given to hosting a diverse landscape of flora and fauna. This ecological enclave in the heart of the lively district of Neukölln contains rare botanical specimens from around the globe as well as local species which have returned to the site.

Read more at Archaic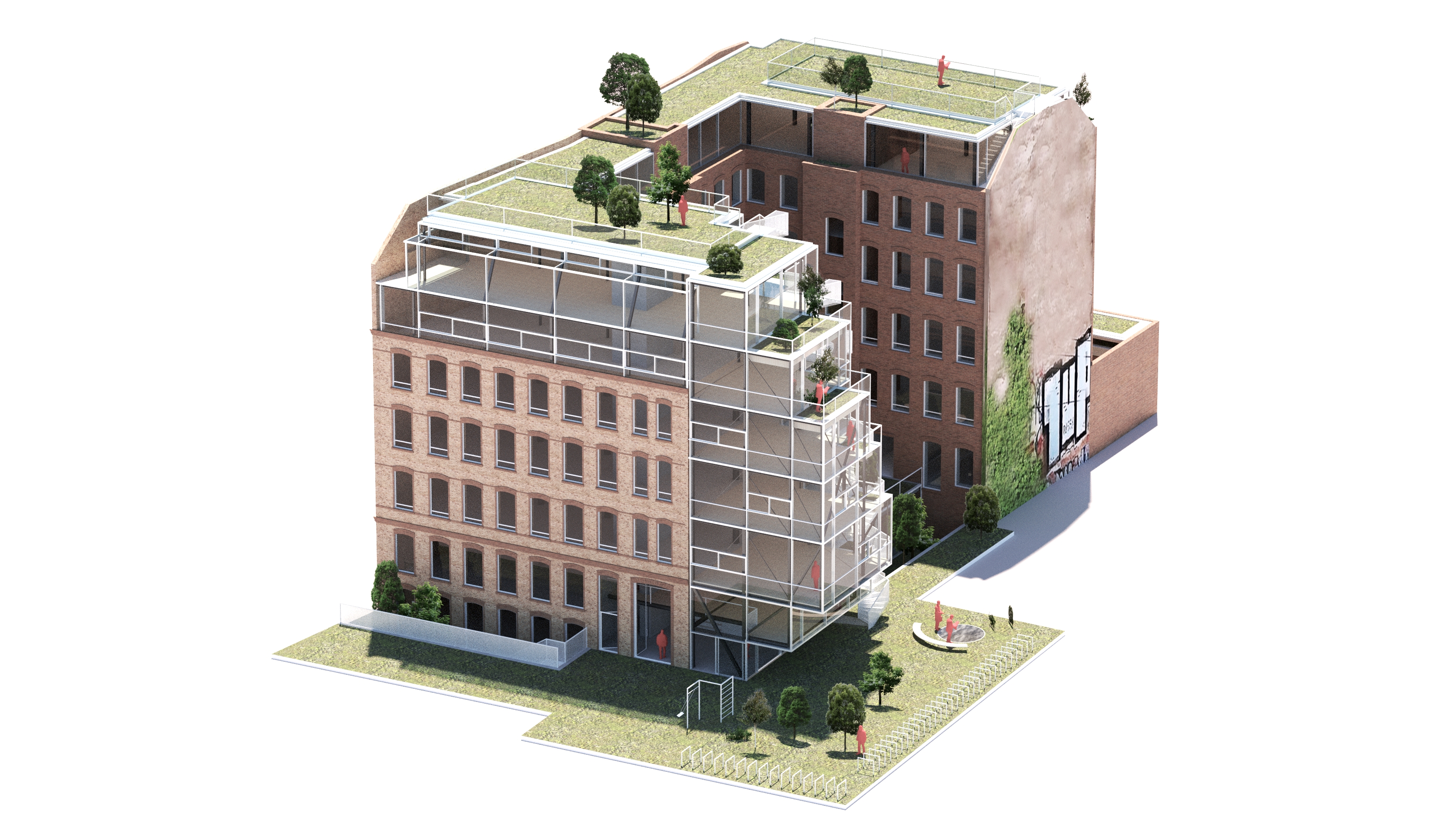 Dieffenbachstraße 33
Berlin - Kreuzberg
6.500 m²

In collaboration with Arge Architekten
client: Incept
project team: Christian Uhl, Paco Motzer, Corinna Studier
status: planning permit, construction starts April 2021

A former piano-parts factory building, Dieffenbachstraße 33 has been party destroyed during an air-raid in WWII. The historic density is illegal nowadays, so the destroyed parts could not be rebuilt 1 to 1.
Accordingly, we stepped aside and let current planning law be the architect. It came up with a complex yet lightweight typology, that extends the building on top, sideways, and even subterranean, while elegantly navigating the maze of invisible planning law constraints. It is formulated as a steel, wood and concrete hybrid. The second escape route is a scenic outdoor path, meandering through a valley formed by distance regulations. A subterranean structure, the Waldpavillon, caves under footprint regulations, and opens towards a hidden courtyard full of forest plants, like ferns, pines, beeches and mosses, and dead rotting would offers rare real estate for insects, fungi and worms. Circular skylights let sunlight in, like through a forest canopy. All horizontal surfaces are built as intensive green roofs. They will be seedbombed and handed over to Berlin wilderness from then on.
The new structures connect the existing units in many unexpected ways, thus creating an office and mixed use environment where history, present and future wilderness are intervowen delightfully.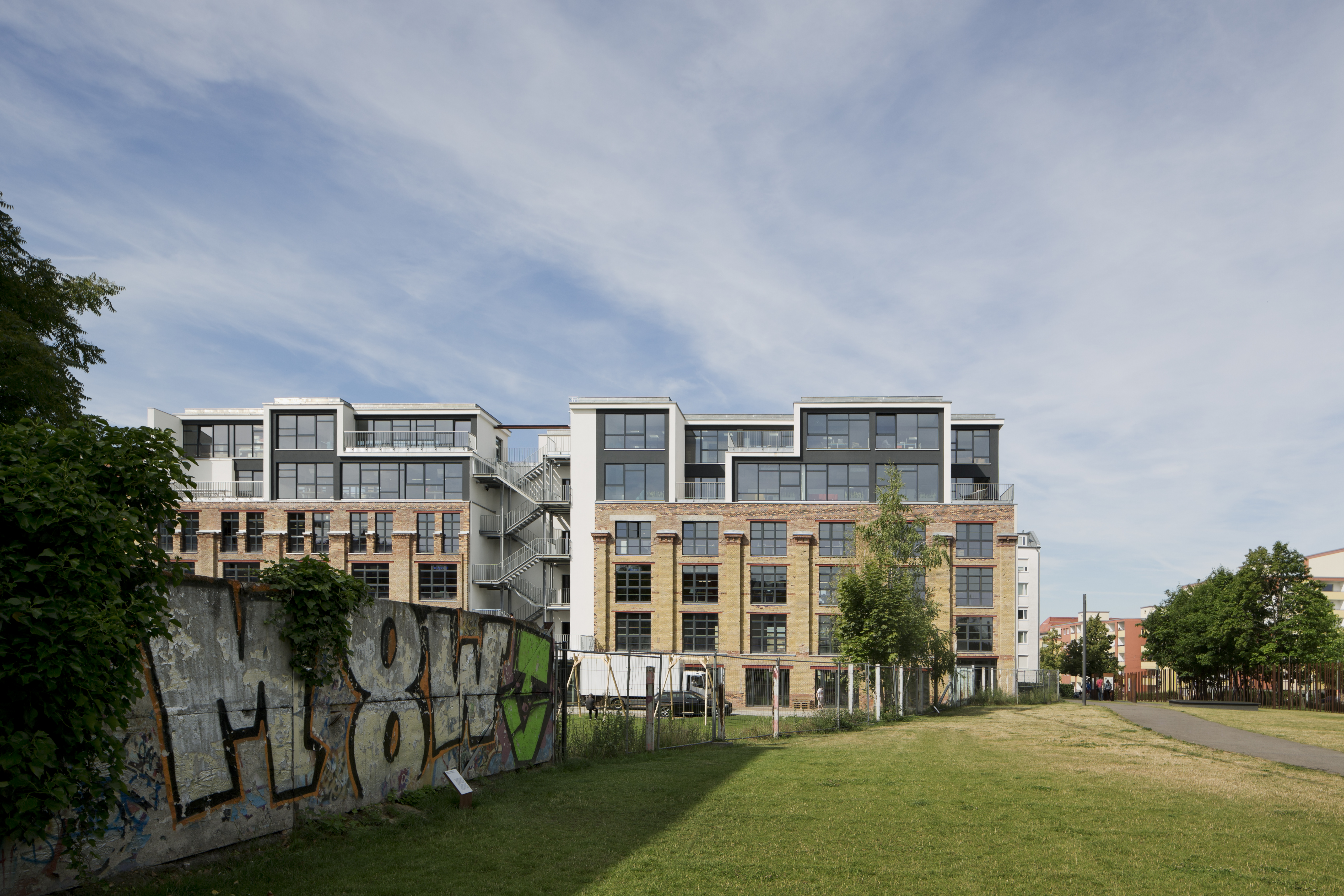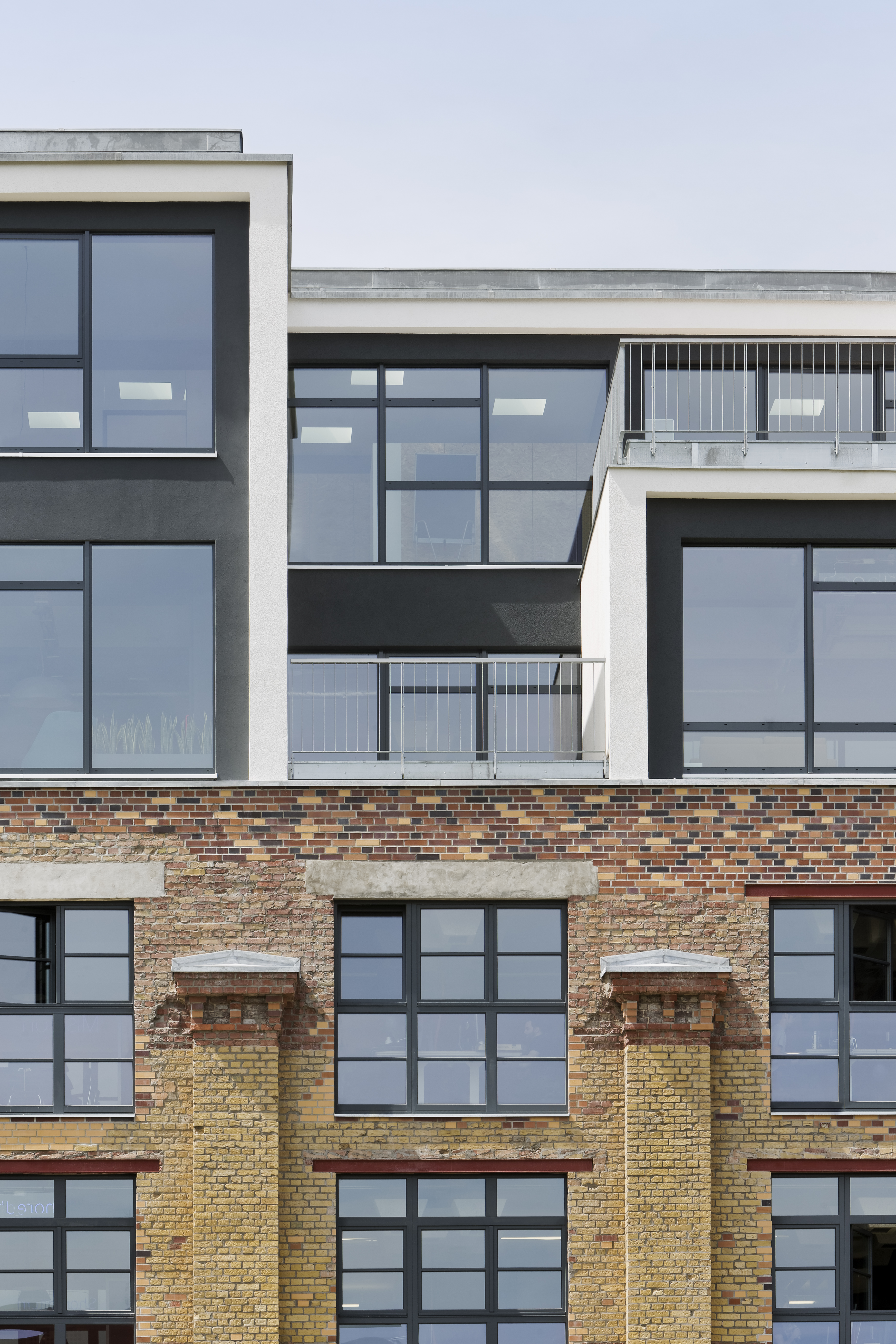 Factory Berlin
Berlin Mitte
7.500m²
Completed 2014

tenants include: Soundcloud,Twitter, Pinterest, Siemens, T-Mobile, Google for Entrepreneurs
project team: Corentin Héraud, Eric Wolfgang Eisenhut, Sarina Giffhorn, Minho Park, Roma Gadomska, Martino Pacchetti, Cameron Halls, Roberta D'Alessandro
photos: Werner Huthmacher

Refurbishment of the old Oswald Berliner Brewery, built in the a late-19th century and once part of the Berlin Wall. The original pre-World War I brick facade was painstakingly restored while the circulation and spatial logic were manipulated to satisfy the requirements of a 21st century office landscape. The resulting architectural topography forms a village-like arrangement of white volumes, which house together clusters of small start-ups among industry giants, gathered around a central outdoor plaza on the fifth floor. The ground floor hosts co-working spaces and a restaurant, and is open to the campus courtyards, gardens, terraces, and event spaces in the basement.

Read more at ArchDaily
Ein Fünftel mehr Berlin

Die Wohnraumkrise in Berlin spitzt sich zu. Gleichzeitig liegt mitten im Stadtgebiet eine gewaltige Fläche von fast 30 Millionen Quadratmetern, die mehr als 700.000 Menschen, einem Fünftel der Stadtbevölkerung, ein Zuhause bieten könnte: die Berliner Kleingartenkolonien. Fast täglich werden deshalb neue Forderungen nach einer vollständigen oder teilweisen Bebauung der Kleingärten laut. Anstatt die Kolonien abzureissen und die Nutzer zu verdrängen, könnte den Kleingärtnern Baurecht gegeben werden.

Weiterlesen Tagesspiegel